| July 10th, 2011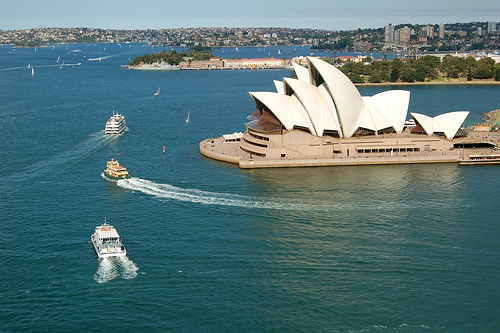 The Sydney Opera House sits on the harbour's edge, a place it has called home since 1973. With its award-winning design, it has both become an UNESCO World Heritage listed site and an icon for the land Down Under. In other words, you can't think of Sydney and not think of this magnificent piece of architecture, and you can't come to Australia without spending a bit of time in its presence.
The Sydney Harbour and Circular Quay areas are locations with great vantage points, and it just so happens these are areas of prime real estate. If you're looking to stay here, you're looking at a bit of luxury, and here are the hotels that can give you both: a luxury stay and a brilliant view of the Sydney Opera House.
Intercontinental
The Intercontinental is seated on the edge of the Sydney Harbour, just a stone's throw from the Royal Botanic Gardens and with easy access to Circular Quay.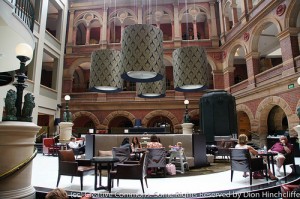 Furthermore, this hotel is built around the old Treasury Building giving visitors the feel of Sydney's history without even leaving the hotel. There are 509 rooms in the Intercontinental, a 24 hour fitness facility (also with views of the Sydney Harbour), a salon and florist, along with a couple of restaurants and a lounge.


Shangri-La
Everyone knows the name, Shangri-La, and most would expect a bit of luxury when booking into one of these hotels. In Sydney, you not only get luxury, but you also get location, history and view.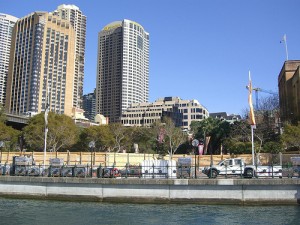 The Sydney Shangri-La is located in the historic Rocks district fairly close to major attractions and public transportation hubs. Inside, you will find 563 units with sweeping panoramic views in most, along with a top-level bar and restaurant for even more Sydney Opera House and city views (brilliant at night).


Four Seasons
Just like the Shangri-La, the Four Seasons has a reputation for luxury. This 5-star luxury Sydney hotel is on the ever-so-popular George Street just around the corner from the Rocks district, Circular Quay and public transport.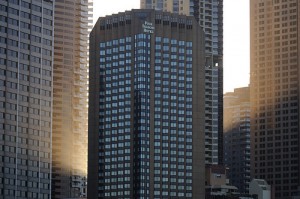 If you're looking for an Opera House view, try the Premier Opera View rooms located on floors 6 to 31. These rooms are spacious to say the least and decked out in all the mod cons to make your stay as pleasant and relaxing as possible.


Sydney Harbour Marriott Hotel
The Sydney Harbour Marriott Hotel is located right on Pitt Street in the Circular Quay area on the harbour. The hotel is perfect for the business traveler with free Internet in the rooms and Wi-Fi in the lobby, along with meeting rooms and facilities.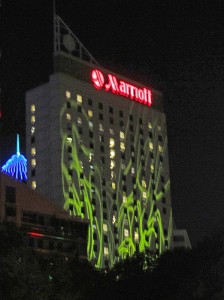 For rooms with a view of the Opera House, you simply need to book the ones with Opera View in the name (as opposed to City View or Bridge View). Choose from standard rooms or upgrade to the Executive or Suite versions to suit your travel needs.


Quay West Suites
As the name suggests, the Quay West Suites is located on the western edge of Circular Quay in downtown Sydney, one of the best areas in the city in my (and most everyone's) opinion.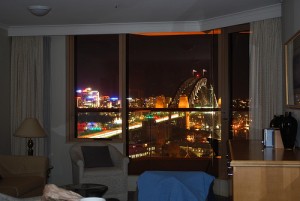 These suites come with a separate living/sleeping space and kitchen, while most of the rooms offer harbour views. Along with suite living comes the amenities of a 5-star hotel with a spa, sauna, gym, and onsite classy restaurant and bar to make life easy.


Harbour Rocks Hotel
The Harbour Rocks Hotel is a boutique, 4-star hotel located, quite suitably, in the Rocks district in a 150-year-old building.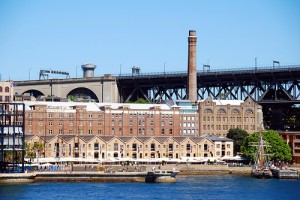 There are 55 rooms in the hotel to choose from, but the most spectacular choice is going to be the Harbour View Suite, which does just what its name suggests: provides a high quality living space with gorgeous harbour (and Opera House) views. In addition, the suite also has a private entrance, a rooftop courtyard and jacuzzi.


Holiday Inn Old Sydney
Again, this hotel is located in the cobblestoned, historic Rocks district of Sydney. The Holiday Inn Old Sydney hotel is rated at 5-stars, featuring 175 pristine rooms and one glorious rooftop pool area with panoramic city views, including that of the Sydney Opera House.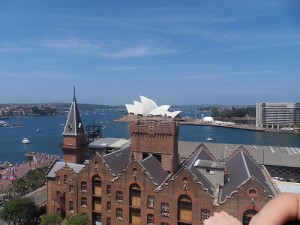 When venturing to Sydney, there isn't a better area of the city to stay in to feel the vibe of all that makes Sydney great: city comforts, relaxed beaches, the harbour, the views and the weather.
There are more than luxury hotels in Sydney, so if this list is a bit out of your range, why not have a peek at the Sydney hotels or the Sydney hostels page. Also, those on a budget can benefit from reading the article "Quality Budget Eats, Sleeps and Drinks in Sydney".
Photo credit: 1, 2, 3, 4, 5, 6, 7, 8.